The versatile activities in the natural paradise Arlberg offer a varied summer experience for families, couples, adventurers and sports enthusiasts.

Click on the photos to learn more!
Ever since the golf course in Zug opened in 2016, the dream of golfing in crystal-clear mountain air on the Arlberg finally became reality. Stylishly and harmoniously embedded in the Alpine landscape of the Zugertal valley, this sophisticated 9-hole, handicap-friendly course boasts thrilling new perspectives of the surrounding pristine nature at every tee. The 19-hectare golf course, Austria's highest, is situated at 1500 metres above sea level.
The golf course in Zug is open daily for you.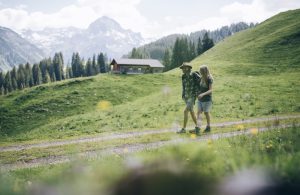 The hiking region of Lech Zürs
Lech Zürs can rightly claim to be one of the most versatile and extensive hiking regions in the Alps. Well-signposted hiking trails crisscross the entire region. Depending on the season, select from a variety of routes that guarantee a very special nature experience. From blossoming spring flowers to lush mountain meadows or the explosion of colours during autumn, explore the Arlberg's mountains and experience pristine nature first hand.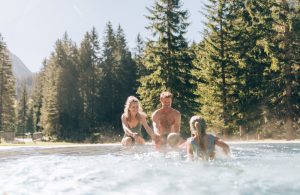 The forest swimming pool Lech
Opened in summer of 2020, the new forest swimming pool features a 25-m sports pool, an aquafit pool with bubble loungers and massage jets, a children's pool, a baby pool and a wide wave slide.
Daily in good weather from 09:30am – 07:00pm.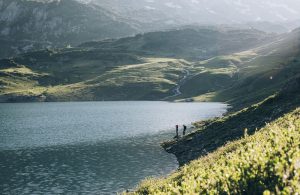 The Lech river flows evenly and powerfully towards the valley. It thunders through tight, rocky gorges and seems to calm down in flatter areas. Want to know where the best place to catch a riverine brown trout is? Find out here!
Against a unique natural backdrop, the tranquil and flowing waters of the Arlberg invite anglers to try their luck. A solid stock of riverine brown trout and rainbow trout populates Formarinsee lake and Spullersee lake, where they share their habitat with lake trout and speckled trout.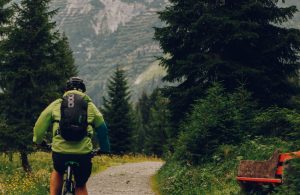 Kriegerhorn, Stierloch – To skiers, these names invoke pure adrenaline. In summertime, mountain bikers and hikers share these places. Tours in Lech Zürs focus on diversity and variety. They are designed for beginners, leisurely cyclists, as well as experienced trail riders and those counting their vertical metres. Mountain huts and farms are inviting places to take a well-earned break, which means that the sporting aspect of an active holiday can always be combined with a necessary dose of relaxation.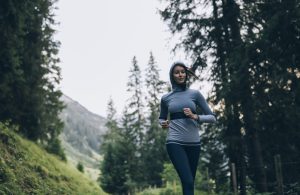 Exercise at altitude in Lech Zürs
Some people walk or go for a walk, others jog or run. Then there are those who love Nordic walking or trail running while still others yearn for mountain running or high-altitude jogging. What unites all of these people is the joy of movement. Lech Zürs am Arlberg offers the perfect terrain and ideal conditions for these types of sports and forms of exercise.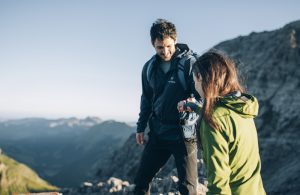 Experience Lech from a new perspective as locals introduce you to the true meaning of "More time. More space." In special times like these, we reflect on the essentials: Nature and the incredible power it gives us day after day. Lech Zürs is more than just an attitude towards life, it's a place of longing and a source of inspiration. With a variety of activities designed to recharge your spirits, Lech locals invite you to get in touch with all that this special place has to offer.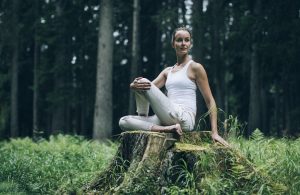 Here, far Eastern spirituality meets the high mountain region of Lech Zürs am Arlberg. What sounds like an interesting mixture is, at second glance, a logical combination. Yoga frees the mind, it brings body and mind into harmony – especially at the lofty heights of Lech Zürs, where you can experience the difference in person.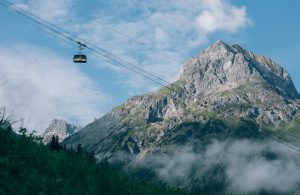 The Lech Card is the perfect offer for your summer holiday in Lech am Arlberg. From one overnight stay in Lech or Warth, guests can enjoy all the summer offers in Lech Zürs am Arlberg. Best of all, the 2-day Lech Card is also worthwhile for short holiday getaways. For guests who stay a little longer, we recommend the 7-day Lech Card, which will allow you access to a variety of different services. The card is particularly attractive for families: children ages 14 and younger receive the Lech Card free of charge.
The Lech Card is available for you from June 14 – October 03 2023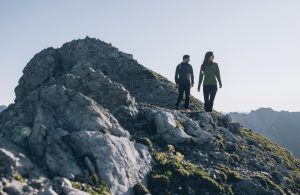 Arlberg Alpin, located in the centre of Lech am Arlberg, is our outdoor partner in summer! All guests on the lookout for adventure in the holiday region of Lech Zürs will surely find the right offer here. With the Lech Card in hand, you can participate in the children's adventure programme or the family programme at the weekend free of charge. Special highlights on offer: the 3D archery course, canyoning, climbing and hydrospeed.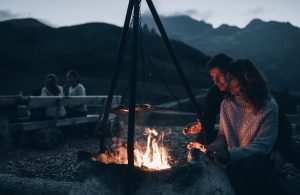 Barbecue areas in Lech Zürs
What better way to round off the day after a hike in the evening than to enjoy a barbecue together with your loved ones? Around Lech Zürs, there are numerous barbecue areas equipped with a grill, table, seating and dry wood. The only things you need to bring with you are a lighter, barbecue food and something to drink. In the middle of the beautiful mountain landscape of Lech Zürs, every barbecue becomes a celebration for the whole family.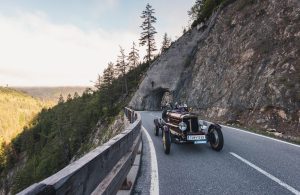 In Lech Zürs the Valley offers as much entertainment as the peaks of the mountain region
For an unforgettable time in our chalets
Housekeeping
Breakfast service
Dinner to order
Table reservation
Sauna
Shuttle-Service
Ski-in/Ski-out
Lift tickets in the chalet
Organization of ski instructors
Heliskiing
Horse-drawn sleigh rides
Organization of festivals
Luxery shopping
Excellent cuisine
Tobogganing
Art and culture
Sports & Wellness
Event